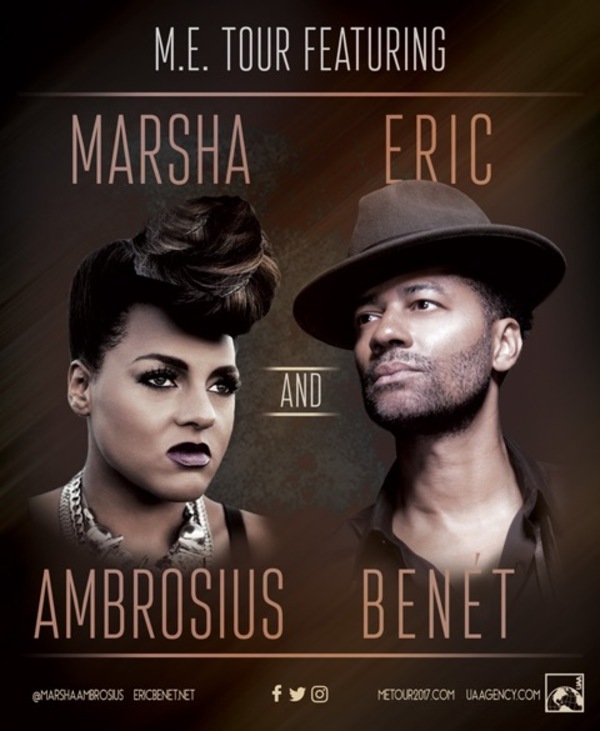 The M.E. Tour with Marsha Ambrosius
NORTH AMERICAN DATES ANNOUNCED FOR THE M.E. TOUR FEATURING MARSHA AMBROSIUS AND ERIC BENÉT
New York, NY – Platinum-selling recording artists and songwriters Marsha Ambrosius and Eric Benét will unite this Spring for The M.E. Tour, set to kick off March 30th in Detroit, MI and continue through 40+ cities across North America. Described as an intimately special concert experience, fans across the continent in cities like New York, Chicago, Los Angeles, Las Vegas and San Francisco will be able to hear the soulful sounds of the two industry veterans. Tickets will be available to the general public starting this Friday February 10, 2017 and links to local ticket outlets can be found at http://ericbenet.net/events.
Eric Benét fans can upgrade to one of two VIP Meet & Greet packages which includes a Meet and Greet, Individual Photograph with Eric, Commemorative VIP Laminate and much more. Fans can upgrade now at http://ericbenet.net/events.
Marsha Ambrosius and Eric Benét will take to the road this spring to meet the next challenge in their already impressive music careers. Marsha Ambrosius has been at the forefront of soul music since her beginnings in Floetry and continues to reinvent herself as a solo artist as she prepares for two new singles via Human Re Sources Records ahead of the tour's kick-off. Nominated for a total of six Grammys and honored as BMI's Songwriter of the Year, Marsha's music is a frank and candid glimpse of her life and perspectives as a woman.
Ambrosius will be joined onstage by contemporary R&B artist Eric Benét, known for his dedicated commitment to crafting authentic music that engages the soul. Benét, a fellow Grammy nominee, perfects the smooth and crystal clear sound of traditional R&B, with influences from the likes of Stevie Wonder, Ella Fitzgerald, and Queen. His 2016 single "Sunshine" climbed the radio charts, reaching TOP 5 Urban AC and is featured on his self-titled album that debuted on the Billboard charts at #7 on R&B. The two have promised a once in a lifetime concert experience, with electrifying collaborations and a soulful, creative sound.
The M.E. Tour featuring Marsha Ambrosius and Eric Benét is represented by Universal Attractions Agency (UAA). UAA is an industry leader in the talent touring business with current successful tours including the I Love the 90's Tour, Festival of Praise, and Mardi Gras Madness featuring George Clinton & Parliament Funkadelic.
The M.E. Tour featuring Marsha Ambrosius and Eric Benét Tour Dates
| | | |
| --- | --- | --- |
| 3/30 | Detroit, MI | Sound Board |
| 3/31 | Northfield, OH | Hard Rock Live |
| 4/2 | Kalamazoo, MI | Kalamazoo State Theatre |
| 4/6 | Atlanta, GA | Cobb Energy Performing Arts Centre |
| 4/7 | Raleigh, NC | The Ritz |
| 4/9 | Charlotte, NC | The Fillmore |
| 4/12 | Houston, TX | House of Blues |
| 4/13 | New Orleans, LA | House of Blues |
| 4/14 | Grand Prairie, TX | Verizon Theatre |
| 4/15 | Memphis, TN | Cannon Center for the Performing Arts |
| 4/20 | Tampa, FL | Ferguson Hall |
| 4/21 | Miami, FL | The Fillmore |
| 4/23 | Orlando, FL | House of Blues |
| 4/26 | Jacksonville, FL | The Florida Theatre |
| 4/27 | Greensboro, NC | Cone Denim Entertainment Center |
| 4/28 | Richmond, VA | The National |
| 4/30 | Norfolk, VA | The NorVa |
| 5/2 | New York, NY | B.B. King Blues Club & Grill |
| 5/3 | New York, NY | B.B. King Blues Club & Grill |
| 5/4 | Philadelphia, PA | Keswick Theatre |
| 5/5 | Baltimore, MD | Rams Head Live! |
| 5/6 | Washington DC | The Howard Theatre |
| 5/9 | Washington DC | The Howard Theatre |
| 5/12 | Indianapolis, IN | Murat Theatre |
| 5/14 | Chicago, IL | The Metro |
| 5/18 | Minneapolis, MN | State Theatre |
| 5/19 | Kansas City, MO | Uptown Theater |
| 5/23 | Anaheim, CA | House of Blues |
| 5/24 | Scottsdale, AZ | Scottsdale Center for the Performing Arts |
| 5/25 | Las Vegas, NV | House of Blues |
| 5/26 | Los Angeles, CA | The Wiltern |
| 5/27 | San Diego, CA | House of Blues |
| 6/1 | Seattle, WA | Moore Theatre |
| 6/3 | Sacramento, CA | Crest Theatre |
| 6/4 | Oakland, CA | Yoshi's |
| 6/6 | Oakland, CA | Yoshi's |
| 6/7 | Oakland, CA | Yoshi's |
| 6/8 | Oakland, CA | Yoshi's |