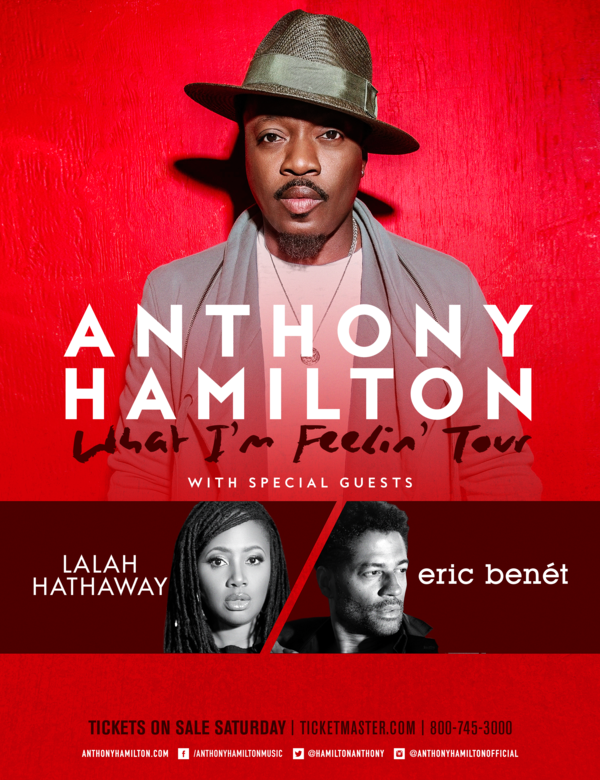 Eric Benét Fan Club Exclusive - 'What I'm Feelin' Tour' Pre-Sale!
BENÉT AND LALAH HATHAWAY WILL APPEAR AS SPECIAL GUESTS ON THE FOUR-WEEK TOUR THIS OCTOBER
Beginning Thursday, September 8th, at 10am local venue time, fan club members will get first access to tickets to the following shows:

10/13/16 Louisville, KY - Palace Theatre
10/14/16 Detroit, MI - Fox Theatre
10/15/16 Cincinnati, OH - Aronoff Center
10/22/16 Chattanooga, TN - Soldiers and Sailors Memorial Auditorium
10/23/16 New Orleans, LA - UNO Lakefront Aren a
10/27/16 Ft. Lauderdale, FL Broward Center for Performing Arts
10/28/16 Jacksonville, FL - Moran Theater
10/29/16 Columbia, SC - Township Auditorium
10/30/16 Richmond, VA - Altria Theater
A password will be required to purchase tickets during the pre-sale. Fan club members can find their password beginning Thursday, 9/08 at 9am EDT in their account dashboard.
Not a member of Eric's official fan club? Join here.
For the full list of dates on the 'What I'm Feelin' Tour' visit ericbenet.net/events.
*Stay tuned for news on fan club pre-sale tickets for additional tour dates
Make it a night to remember with a VIP upgrade!
Eric will be offering special upgrades for the 'What I'm Feelin' Tour! Upgrades go on sale for fan club members beginning Thursday, September 8, at 10am local venue time.
Eric Benét VIP Meet and Greet Upgrade
- One Meet and Greet with Eric Benét
- One Photo Opportunity with Eric Benét
- One VIP Exclusive & Autographed Eric Benét Poster
- One Physical Copy of Eric's Self-Titled New Album
-One Commemorative VIP Laminate
* Limited Availability
**all items provided the night of the show**
Eric Benét VIP Tour Bus Meet and Greet Upgrade
- One Meet and Greet with Eric Benét
- One Photo Opportunity with Eric Benét
- Go On Eric's Tour Bus For A Pre-Show Vocal Warm Up & Sing Along
- One VIP Exclusive & Autographed Eric Benét Poster
- One Physical Copy of Eric's Self-Titled New Album
- One Commemorative VIP Laminate
* Limited Availability
**all items provided the night of the show**
VIP Upgrades will be available for the following shows:
10/6 - Durham Performing Arts Center (Durham, NC)
10/7 - North Charleston Performing Arts Center (Charleston, SC)
10/8 - DAR Constitution Hall (Washington, DC)
10/9 - Modell Performing Arts Center at the Lyric (Baltimore, MD)
10/13 - Palace Theatre (Louisville, KY)
10/14 - Fox Theatre (Detroit, MI)
10/15 - Aronoff Center (Cincinnati, OH)
10/16 - Bell Auditorium (Augusta, GA)
10/22 - Soliders and Sailors Memorial Auditorium (Chattanooga, TN)
10/23 - UNO Lakefront Arena (New Orleans, LA)
10/27 - Broward Center for Performing Arts (Ft Lauderdale, FL)
10/28 - Moran Theater (Jacksonville, FL)
10/29 - Township Auditorium (Columbia, SC)
10/30 - Altria Theater (Richmond, VA)
To purchase a VIP upgrade, click the date above.
On sale times:
Fan club members - Thursday, September 8th beginning at 10am local
General public - Friday, September 9th beginning at 10am Eastern